Fitness Reality Dual Transmission Fan Rower Review
With fitness equipment, I have found that you generally get what you pay for and sometimes, you get much more. This is the case with the Fitness Reality Dual Transmission Fan Rower which provides what I believe to be a realistic rowing experience with premium features, at an entry-level price. The design is simple, with a black steel frame and a sturdy aluminum slide rail that can handle an impressive maximum weight capacity of 300 lbs.
When I think of air turbine rowers, I always imagine the massive fans that add a lot of bulk and extra weight to the rowing machine. I was pleasantly surprised when I saw how small the fan is on the Fitness Reality Fan Rower. Another bonus is that the frame is foldable, which makes an already compact rower even more compact for easy storage!
Sturdiness
When I say the Fitness Reality Fan Rower is compact, I mean it! The dimensions for the rower are 70" L x 23" W x 26" H, making it one of the smaller air rowers on the market. Compared to one of its closest rivals, the Stamina Air Rower 1403, the Fitness Reality is over half a foot shorter, which may not seem like much, but believe me when I say that rowing machines take up quite a bit of room in your house. Any space you can save, the better.
The Fitness Reality Fan Rower isn't just space friendly, it is extremely light as well, weighing in at an impressive 44 lbs. I thought the Stamina Air Rower 1403 was light at 54 lbs, but the Fitness Reality Fan Rower blew that away. I cannot stress how difficult it can be to move a piece of fitness equipment around the house, so Fitness Reality certainly made it easy to transport the rower from room to room.
Resistance
The Fitness Reality Fan Rower incorporates a dual resistance system that uses the air turbine at the front of the machine as well as 14 levels of magnetic resistance. The best part about this dual transmission system is that you have complete control with the manually adjustable smart knob, which also helps to keep track of your progress and stats based on which resistance level you are on.
One thing I am always aware of with air rowers is the potential noise the turbine makes. It's a different noise than that of a water resistance machine, and obviously much louder than a magnetic resistance machine. Thankfully, the noise isn't too loud from the Fitness Reality Fan Rower, most likely due to the smaller turbine.
Display
Fitness Reality impressed me with the technology features they included for an entry-level model. First, the Fitness Reality Fan Rower has Bluetooth compatibility, which is generally reserved for higher end fitness machines. With the Bluetooth connection, the Fitness Reality Fan Rower can utilize the popular MyCloudFitness app, which allows users to track their progress in real time as well as follow along with hundreds of coaching videos from professionally trained fitness instructors.
There is a catch though: if you choose to use the MyCloudFitness app there is a $14.99 monthly subscription charge, which is fairly standard for these premium integrated fitness apps. There is also a monitor that comes attached if you choose not to use the MyCloudFitness app. The monitor is basic, but you can track things like distance, time, calories burned, total strokes, and strokes per minute.
Assembly and Performance
Assembly was surprisingly simple and it only took me about 30 minutes to put the Fitness Reality Fan Rower together. All of the instructions and tools were included, and I am definitely not the handiest guy so if I can do it, anyone can!
Maintenance for rowing machines is extremely low touch: just keep dust out of the turbine and make sure no dirt or grime builds up in the slide rail. You can purchase the machine right from the Fitness Reality site, or through their Amazon store (where the machine is actually cheaper right now), and get fast and free shipping.
Price and Warranty
The price of the Fitness Reality Fan Rower is what is going to attract most people, as the price tag is only $299 on Amazon and $399 on the Fitness Reality site. With the features you get, that's an extremely attractive price point, especially for casual rowers who are just looking to improve their fitness from home.
The warranty is fine from Fitness Reality, but it's not too comprehensive. All that comes with their fitness machines is a 1-year limited warranty for the frame and 90 days for the parts and electronics. Fitness Reality does offer the ability to pay to upgrade your warranty, but I would be surprised if many people choose this option.
Fitness Reality Air Magnetic Rower
In terms of the entry level air rower class, I have a hard time finding a better value than the Fitness Reality Dual Transmission Fan Rower. It checks off most of the boxes I look for when reviewing an indoor rower, including a great price, integrated technology, and foldable frame for easy storage. At this price point, you can afford to add the integrated MyCloudFitness app and not feel like you are overpaying for a workout. When comparing the Fitness Reality Fan Rower with the Stamina Air Rower 1403, I look at the technology integration that Fitness Reality offers and believe that gives the Fitness Reality Fan Rower the edge.
Pros
Attractive price for a surprisingly decent rowing machine.
Dual transmission resistance has 14 levels of magnetic resistance and a turbine.
Smart knob allows you to control your resistance.
Bluetooth connection allows for MyCloudFitness app integration.
Compact size with very light frame.
Foldable frame makes storage a breeze.
Aluminum slide rail is strong and quiet.
Impressive maximum weight capacity and easy assembly
Cons
It's quiet, but still louder than a magnetic resistance rower.
The warranty isn't great for this price.
MyCloudFitness app adds a further subscription payment each month.
The monitor is quite basic if you don't use your smartphone with MyCloudFitness.
$

599.00
1 new from $599.00
in stock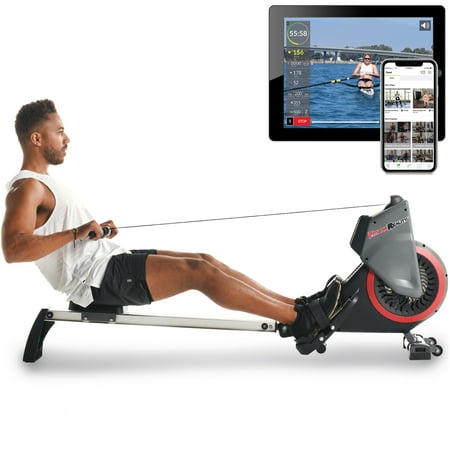 $

299.99

$399.00
out of stock