Concept 2 Model D Review – Pros and Cons (2023)
Concept 2 Model D and Model E rowing machines have been the result of 40 years of experience in innovating high-performance training equipment. Millions of this high-end rowing machine by Concept2 have been sold worldwide, yet you won't find one person to complain about their Concept II Model D.
Featuring Air resistance technology, the Concept 2 rower model D can provide cardio workouts for all fitness levels. This beautiful and sleek rowing machine is made like a tank and assembled in the USA with American and foreign-made parts.
Concept 2 Model D air rowing machine can be seen in military bases, rehab places, health clubs and most importantly at home. While featuring fully commercial quality, the Concept model D is available for an affordable price. Therefore, many home gyms have this top rowing machine.
You can get the full benefits of indoor rowing from the Black Concept 2 Model D rower PM5 because it's designed ergonomically. Receiving total body workout from mode D rower, you can burn up to 1000 calories per hour while being connected to a wide range of indoor rowing apps online.
There are many other good features of this machine and we are going to go through them in our Concept 2 Model D review. But if you are in hurry and need to buy Concept 2 Model D right away, see below the best price on the market.
How Concept 2 Model D Evolved
Concept2 Model E vs Model D
How Concept2 Rowers Evolved (Differences and similarities)
Concept2 Model E
Concept2 Model D
Frame height
Taller and shorter
Chain Housing
Less dirty to clean
Fully enclosed
Partially enclosed
Flight Time
Average flight time
Monitor Arm
Thick and thine (durability)
Front and Rear Feet
Thick and thine (durability)
PM5 (Bluetooth & ANT+)
PM5 (Bluetooth & ANT+)
Performance seat
Performance seat
Capacity
Weight and height
500 lbs & up to 38″ inseam
500 lbs & up to 38″ inseam
Resistance
Adjustment and type
1-10 level air resistance
1-10 level air resistance
Accessories
Heart rate monitor, dust cover, floor mat, or media tray
All sold separately
All sold separately
Not the latest Concept2 rowing machine but still one of the best seller air rowers in the world. The company has brought 1 improvement and 2 changes to the New Concpet2 rower which is called the E model. On the E model the changes include a 20″ tall seat and fixed monitor arm and the improvement is the fully enclosed chain housing.
The seat sets at 20″ high above the ground and the chain housing are fully enclosed while on the D Model, the seat sets at 14″ above the ground, and the chain housing is partially enclosed. The tall seat on the E model makes it easier for older athletes and individuals with mobility issues to get on and off a little easier.
And the fully enclosed chain housing keeps the dust off the mechanism. As far as the price tag goes, the Concept 2 Model D price is around $200 cheaper. So, if you think the improvements on the new Concpet2 rowing machine aren't important factors for you, we recommend you buy Concept2 Model D.
Important! If you don't have a good balance, we recommend you buy Concept2 Model D because it's closer to the ground in case you ever lose balance and fall of the seat.
Concept II Model D rowing machine is one of the quietest and smoothest home rowers among air and water resistance rowing machines. Used by some of the most elite athletes around the world, the Concept 2 model D indoor rowing machine features a sturdy and solid frame.
It's fully commercial quality and designed for heavy gym use. But if you can afford to add the Concept 2 model D to your home gym, it will last years helping you and the rest of your family members to burn a massive amount of calories every day. In addition to sturdy construction, the Concept2 Model D is also very much feature-rich.
It comes with PM5 "Performance Monitor" which is the latest and most advanced monitor by Concept2. Letting you connect with a wide range of apps including the Concept2 ErgData. As far as the Concept 2 model D storage goes, you can easily separate the rear and front frames to take up less space.
But while working out it's a tiny bit longer than some other home rowing machines. And it's because the rower Concept 2 model D is designed to accommodate all users (short, average, and tall). If I mentioned above is not enough for you to make the decision and buy the best seller rower of all the types, keep reading more details of Concept 2 Model D rower review and also read my details comparison of Concept2 D vs Concept2 E.
Resistance and Chain
Featuring an air-resistance system and a flywheel design that minimizes noise while maximizing a smooth feel, the Concept 2 Model D noise level is similar to a fan and less noisy than some other air-resistance rowing machines we used.
It is not super quiet but it's not obnoxious either so you wouldn't have any problem with Concept 2 model D used at home while watching TV. The resistance level is adjustable through a dial from 1-10 so you can choose your desired workout for your fitness level. By changing resistance, you increase or decrease the amount of air that hit the fan.
Unlike magnetic rowers with a limited resistance level, the Concept 2 indoor rower model D offers unlimited resistance for all fitness levels. What it means is that if you pull harder and faster, more air will hit the fan so the intensity increases. Basically Concept 2 model D indoor rowing machine responds to your effort.
The latest Concept 2 model D ergometer features a nickel-plated steel chain which is similar to what you would get on the Model E. It's durable, smooth, quiet, and doesn't freeze. Unlike generic home rowing machines, the Nickel plated chain requires very little oiling and maintenance.
If you buy the white/black Concept 2 Model D rower pm5 for home workouts, you probably wouldn't need to oil the chain more than once every two months depending on how many hours you use it. You can read in detail about the Model D maintenance down below in this Concept 2 model D review.
Computer
Programs:
The new Concept model D rower has the PM5 monitor. It's nonbacklit but has several awesome features allowing you to hop on your Model D and do a quick start "Just Row". Or you can choose a preset program from five built-in programs that are on the rower.
The PM5 also allows you to manually program 10 different workout types. So, in total, the Model D Concept2 rower PM5 has five preset workouts and five custom workouts. The preset workouts include 30-Minute rowing, Interval rowing, 2000, 5000, and 10000-meter distance rowing.
The preset interval workout also known as High-Intensity Interval Training is 500 meters of exercise followed by one-minute rest. In addition to these built-in workout routines, there are 4 basic rowing games on the PM5.
USB-Port:
The Concept 2 Model D rower PM5 has a USB port. By connecting the USB to the rowing machine, you can create a user profile, store your daily workout data and update the PM5 firmware. Each USB flash drive can have only one user profile and holds workout information for one user.
Therefore, if two people are using the Concept II rower model D and they both want to track their progress, then each person should have their own USB drive.
A useful spec of the rowing machine concept 2 model D is the USB connectivity. It allows you to save 5 customized workouts on the USB Drive in addition to 5 customized workouts on the Monitor.
If only one person is using the rower, you don't necessarily need to use the USB for data storage. Because the Concept 2 model D indoor rower with PM5 has internal memory and will save your workout.
Wireless Connectivity:
Last but not least feature of the Concept2 Model D rowing machine PM5's monitor is the Wireless connection capability. Allowing you to connect your phone/tablet to the rower using Bluetooth or ANT+ connection. This means you can download one of the many compatible fitness apps on your phone/tablet/computer and compete with real-time rowers.
You can save your workout data on the apps to compare your progress at the end of the month. So, you wouldn't need a USB to save and track workout data. Some of the compatible Apps include the free Concept2 ErgData, BoatCoach, Erg IQ, ErgMate, Ergometer Space, Float, HOLOFIT, LiveRowing, RowPro, and many more.
The monitor draws power from the flywheel during exercise and when you are not rowing, the PM5 monitor takes its required power from two D-cell batteries. The monitor also has a USB cable port to connect to the computer, two race system jacks for cabling multiple PM5s together for racing and a reset button. You can find out more in the Concept 2 Model D manual.
Frame
Featuring commercial-quality construction designed to last for heavy gym use and boat houses, hotels, and military bases, the Concept2 Model D is well-known for its durability. With aluminum front legs, steel rear legs and 96″ Length, 24″ width, Model D can accommodate users up to 6.6 feet tall and 500-pound weight.
So, it's no wonder why all the Concept 2 Model D reviews indicate it's the most durable indoor rower under $1000. This rowing machine by Concept2 is available in light gray and black colors just like the E model, except it doesn't have a glossy finish. The overall weight of the machine is 57-lb and has durable wheels which help for easy transportation.
Concept 2 Model D is not folding but it's really easy to disassemble and put it away when you are not using it. It can be separated into two parts from the middle which takes less space.
The Concept rower model D monitor arm is pivoting to help with storage and allow the users to adjust the monitor for their height. As far as the floor space goes, you will need around 9 ft x 4 ft when using the machine.
Seat and Handlebar
All the indoor rowers have a seat and handlebar but they are not all ergonomic. Especially the cheap rowing machines, they have a flat seat and a straight handle.
But, when you look at these Concept2 model D parts, you will easily spot the ergonomic designs. Looking at the seat, there are the right curves and bends to make sure your bottom is comfortable during your long rowing routines.
This Concept 2 model D on Amazon has a low profile compared to the E model. The seat stands 14″ above the ground level which is good for individuals with less balance.
Unlike cheap rowers, the Concept2 seat rollers are very smooth and quiet as long as the monorails and the rollers are kept clean. Model D rowing machine handle has a 10-degree bend that provides a natural grip and the cover that absorbs sweat.
Footrests
Concept 2 Model D Black/Grey comes with an adjustable footrest that has a non-slip surface. The ergonomic contour Pedals are pretty easy to adjust without the need for tools.
The adjustable straps keep your feet in place so they don't slide fore/aft during the g workout. Footrests have the correct angle to reduce pressure on your joints during the workout. Allowing you to slide completely forward for better indoor rowing workout.
Shipping and Assembly
Looking to find out where to buy Concept 2 model D but can't make the final decision? Well, it's normal, you are spending quite some money and want to make sure, it's the best price, you receive your rower on time, and in good condition. Buying the Amazon Concept2 model D, you will receive yours on time.
They also include the Concept 2 Model D FREE shipping with the purchase and that saves you some money that you can spend on accessories. As far as your concern for the Concept 2 model D assembly goes, it's nothing major. The tools are included with the package along with the Concept 2 model D assembly instructions.
There is also the Assembly video by Concept2 that will take you through each step. The chain housing, the monitor, the seat, and the handlebar come assembled. You will only need to connect the front legs using 8 fasteners in total.
Maintenance and Warranty
White and black Concept 2 model D rower carry out excellent warranty terms which indicates how much the Concept2 brand is confident about their indoor rowing machines. Another good indication of the quality is their 30-day money back guarantee.
Meaning if you are not satisfied with your Concept2 Model D rower, you can return it back. The Concept 2 Model D maintenance and warranty are related to each other. It means if you want to keep the warranty in effect, you shouldn't ignore oiling and cleaning the machine every 50 hours of use.
All the Concept2 Model D parts feature two-year warranty whether they are defective or worn out. Frame parts, on the other hand, are covered by five-year warranty. Another really good feature of Concept2 is its support services. They respond to all inquiries, questions, and issues immediately through their live chat system.
Concept 2 Model D Accessories
This part of our Concept 2 rower model D review is to help you know the accessories that can make your rowing workout easier and improve your rowing performance so you can get better results.
Chest strap


Concept2 rowing machine model D is compatible with PN 379 Garmin and Polar H7 wireless chest belts. PM5 uses Bluetooth and ANT+ to receive heart rate feedback. So, if you have another Bluetooth smart chest belt, you don't need to buy this item.

Gloves


Based on Concept 2 rower model D reviews you don't necessarily need gloves. But wearing a pair of rowing gloves can help absorb the sweat and prevents blisters during the rowing exercise.

Smartphone cradle


If you want to have your smartphone on top of the Concept2 Model D rowing machine monitor during the workout, you are going to need this Vapor Fitness phone holder. Concept2 Rowing Machine smartphone holder can be adjusted to fit 2.25″ to 3.5″ width devices.

Exercise equipment mat


Exercise equipment can scratch your floor. So, to protect your floor and for a smoother exercise, we suggest you purchase the rowing machine mat that meets the Concept 2 Model D dimensions.

LiveRowing Connector


If you prefer to connect your device to a Concept 2 rowing machine monitor without using Bluetooth/ANT+, you will need this cable. It works for IOS devices and PM5 monitors.

Workout clothing


To avoid your clothes getting in the way during exercise, we recommend you use tight clothing for indoor rowing workouts.

Rowing Machine Seat Cushion


For some users, the concept2 seat is a bit hard and the best solution to that is to buy a rowing machine seat cushion.
Most-Favorite:
Internal memory
Chest strap connectivity
Bluetooth and ANT+ connection
Compatible with a wide range of indoor rowing Apps
Adjustable air resistance
Durable commercial quality frame and parts
Ergonomic handlebars and footrests
Comfortable seat
Low-profile for those with less balance
There are tons of accessories for Concept2 rowers
Allows you to create user profiles on USB-drive
4 Built-in rowing games
10 Customized programs (5 on the USB and 5 on the monitor)
5 Preset workout programs
Least-Favorite:
It is a little louder than water and magnetic rowers.
Concept 2 Model D Rowing Machine – Specs:
| | |
| --- | --- |
| Resistance⋰⋰⋰⋰⋰⋰ | Air-Resistance⋰⋰⋰⋰⋰⋰ |
| Drive: | Nickel Plated chain |
| Powered: | 2-D Cell Battries |
| Footrests: | Adjustable |
| Capacity: | 500-Lb |
| Max-Inseam: | 38-Inch |
| Dimensions: | 96L x 24W |
| Rower-Weight: | 57-Lb |
The Concept2 Model D Indoor Rowing Machine is a game-changer in the world of fitness. With its impeccable design, durability, and comfortable rowing experience, it's a must-have for any fitness enthusiast. The performance monitor provides real-time data, while the smooth and quiet operation ensures a challenging workout. It's versatile and can be easily stored, offering a total-body workout experience. In short, the Concept2 Model D is the ultimate indoor rowing machine for enhancing your fitness journey.
$

1,339.77
6 new from $1,339.77
in stock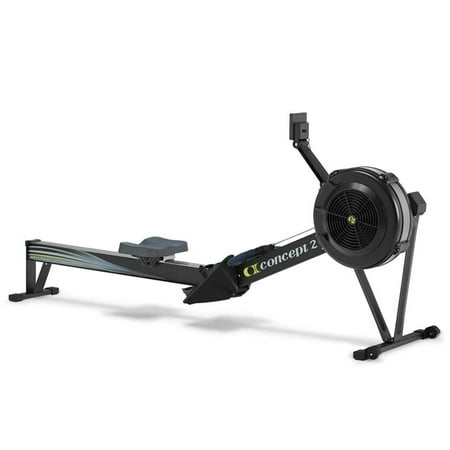 The Concept2 Model D Indoor Rowing Machine has become an integral part of my fitness routine. Its exceptional design, performance monitor, smooth operation, and versatility have surpassed all my expectations. If you're looking to take your fitness journey to new heights, I highly recommend giving the Concept2 Model D a try. Trust me, it's a decision you won't regret.
Concept2 Model D is an Awesome Rower
The Rowing machine Concept2 model D used at home can last years without having you deal with broken parts. Model D Concept 2 rower is durable and sturdy featuring 500 pounds user weight capacity and a long monorail, for people with inseams of 38″. It's easy to set-up and has all the features you would expect to receive on an indoor rower. While in the past, the Concept2 D model came with PM4, now the Concept 2 ergometer model D features a top-of-the-line computer, the PM5.
The Performance onboard computer is an excellent addition to this home gym rower that allows you to sync easily with IOS and Android devices. Concept 2 rower model D PM5's compatibility with motivational paid and free rowing apps is a great feature to keep you entertained.
It has a top-notch adjustable air resistance system that allows you to decide the tension for each stroke reducing the pressure on your arms. If you like to train as a crew, there is the Dynamic Link and the Sliding Single accessories. Bottom line, the Concept 2 rower model D PM5 is unbeatable in quality, sturdiness, features, and price. It's built to last generations and we strongly recommend this high-end rower for our readers.